okay..
nak review cita korea..
lama tak buat rebiew drama korea
kali ni..citer.. "GOBLIN"
rasa ramai gak yg dah tengok citer ni kan?
dah abis pun...
citer ni..bg Mummy Ayu ..best
ada part romantik, kelakar, sweet
and..ada part yg quite berat sikit..
pelakon utama
hero & heroin
yg hero ni..memang dah biasa tengok la
hero ~ Gong Yoo.... hero citer Coffee Prince, Big & the latest ni..Train to Busan
heroin ni.. Kim Go Eun..Mummy Ayu tak kenal sgt..tak pernah tgk lakonan dia
but..bila google, dia heroin citer Cheese in theTrap... patut la tak kenal..sbb tak layan citer tu
but..lakonan dia .. best!!
okay...mula2 cerita ni....zaman dulu kala..
Gong Yoo aka Kim Shin baru balik dr perang....menang
but..raja muda dia marah sgt
and..jatuhkan hukuman mati kat Kim Shin
sebenarnya...raja muda tu kena hasut ngan penasihat dia..yg muka tak semenggah kat belakang tu
jahat giler..tak tau apa nama ntah
tapi memang jahat...dah mati jadi hantu pun jahat jugaks...
dia la punca nya Raja Muda tu marah..and jatuhkan hukuman mati..
bukan Kim Shin jer mati
adik perempuan Kim Shin pun mati
adik perempuan Kim Shin ni...isteri kepada Raja Muda tu
pun mati jugaks....sbb sokong Abang dia dr Raja tu
semuanya gara2 penasihat jahat tu
emm..jahat sgt
but...hero kan
mana mati
Kim Shin tak mati but kena sumpah
tak akan mati melainkan jumpa seorang perempuan yg boleh tarik pedang yg tertusuk kat dada dia
so..Kim Shin hidup....
balas dendam..
and..terus hidup sampai la 900 tahun
kononnya..
dia jadi Goblin..
mcm malaikat la konon2..
and..satu malam..
dia terdengar satu suara minta tolong
bukan tolong dia..but anak dlm kandungan dia
Kim Shin pun tolong lah...
selamat kan ibu & kandungan dia..
lahir baby girl..
tu la heroin nya.. goblin's bride...
ada birth mark..kat belakang bahu dia..Jin Eun Tak
and ...Eun Tak ni ada kuasa utk nampak hantu..roh2 and..boleh ckp2 ngan hantu
dia pun tak tau yg dia tu goblin's bride..sampai la satu hari
ada hantu yg kasi tau dia
and..hari tu jugak..dia berselisih ngan goblin tu
misteri sangat
kan??
and..pd birthday dia yg ker 19 (kalau tak silap)
dia make a wish..tiup lilin
and..muncul Kim Shin
time tu la..diaorang mula kenal
gauh..jgn cakap la..
banyak kali sangat
and.....Eun Tak ckp ...dia leh nampak pedang kat dada Kim Shin
Kim Shin tak percaya pada mulanya
but..lama tu percaya
and..dia orang dah mula suka each other
time tu
and..Kim Shin dok tangguh2 ..utk Eun Tak tarik pedang tu
sbb kalau tarik pedang tu...dia akan mati for real...
emm....cedih la plak..
okay...second hero...
Dong Wook.....sbg Grim Reaper
malaikat maut
emm...dia ni..dok keja Eun Tak
sbb..pd malam Kim Shin selamatkan mak Eun Tak tu..
sepatutnya dua2 pun mati
but..kan Kim Shin selamatkan
so..dok la kejar...kejar
and..nak jadi cerita..
dia menyewa kat umah Kim Shin
anak buah merangkap kpd assistant Kim Shin nie la..
yg kasi sewa..Dok Hwa..yg tengah tu
dia ni watak pembantu jer
but..best gak ada dia..
so..duduk la satu rumah
Goblin ngan Grim Reaper ni
gaduh..selalu sangat
but..serius..
suka tgk gelagat mamat dua orang ni
kelakar..
he he he
gaduh..baik..merajuk
jab jadi geng plak
best!!!
and some how
dua 2 tetiba jadi pelindung utk Eun Tak
best nya Eun Tak...ada dua orang yg jaga dia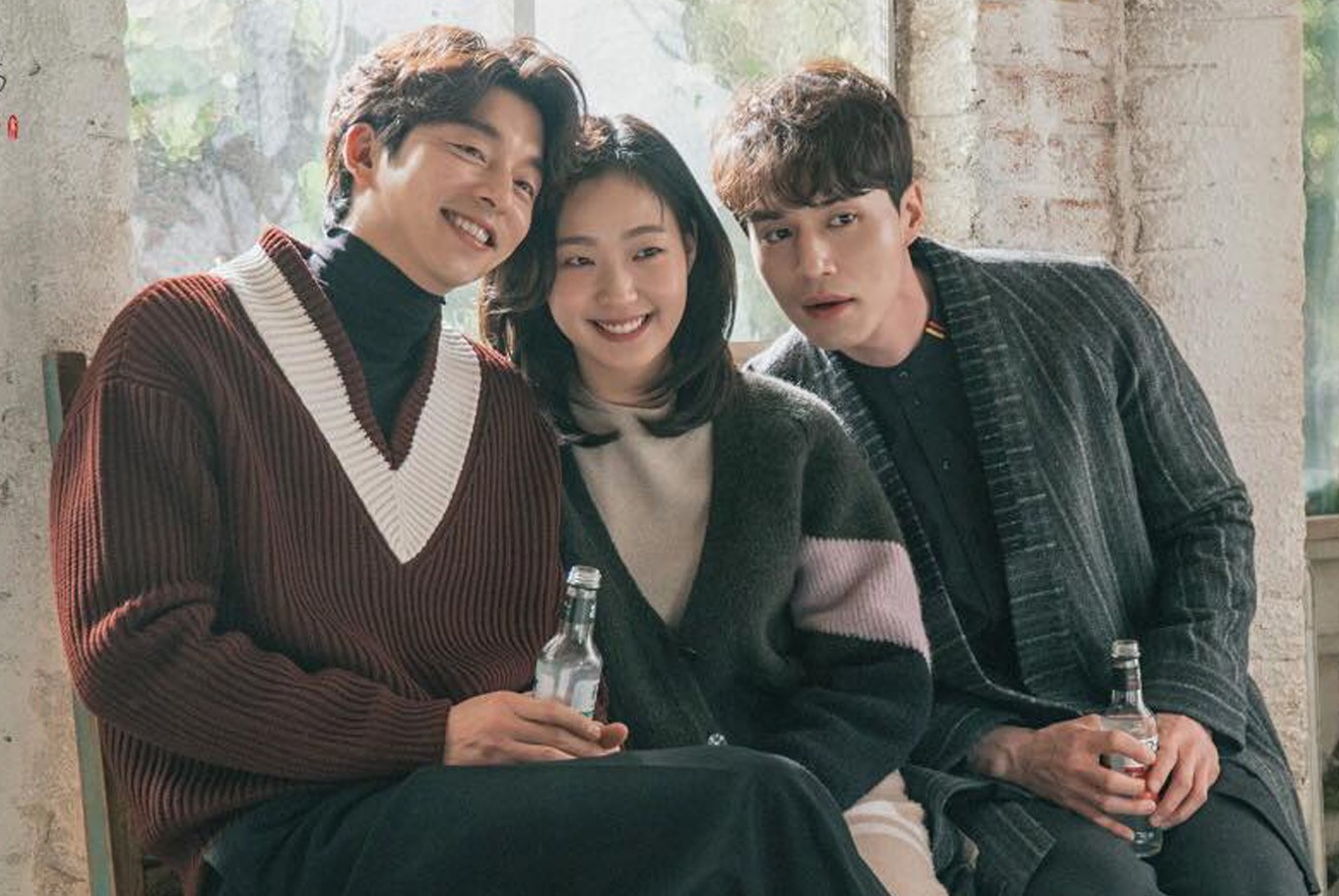 and..they look gook bertiga
happy jer..
part Eun Tak diselamat kan oleh goblin dia
and...Grim Reaper pun ada heroin gak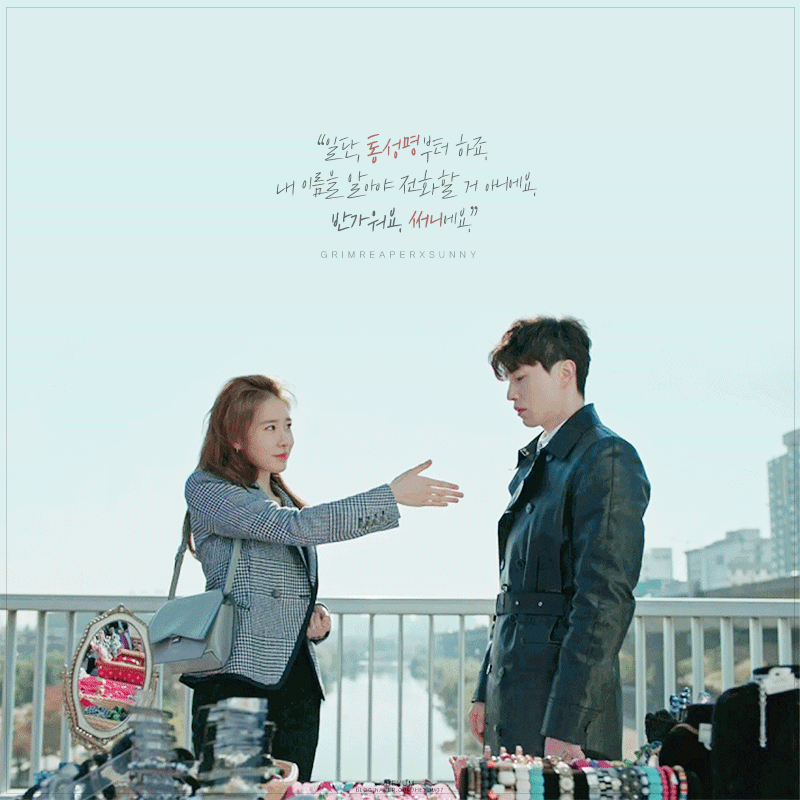 cun lagi....
1st meet...sgt touching
sbb tetiba jer grim reaper mengalir kan air mata....masa jumpa Sunny
sweet jer couple ni
but..mcm ada cerita disebalik hubungan diaorang berdua ni
and..yes..
rupanya diaorang berdua ni....dilahirkan semula
and..dua2 ni..ada kaitan dengan Kim Shin..aka Goblin tu
Grim Reaper ni....zaman dulunya adalah Raja Muda tu
and...
Sunny aka heroin grim reaper tu
adalah isteri raja muda tu aka adik Kim Shin/ Goblin
diaorang kan percaya dilahirkan semula tu
so..diaorang ni memang ada kaitan pada zaman dulunya
but...grim reaper ni..memang tak ingat apa2 pun zaman dulu
siapa dia sebelum tu
and...sama la ngan Sunny tu
diaorang kira uat lah jodoh..jumpa balik walaupun dilahirkan semula
chewah

semua ni...sbb penasihat jahat ni
dia ni..giler kuasa..nak take over jadi raja
bunuh bapak raja muda tu
and..dia jaga raja muda dr kecik
konon2 dia ada kuasa la nasihat raja ..nak buat apa
and..bila dia nampak raja tu kawin ...and rapat ngan Kim Shin
dia takut hilang kuasa
sbb tu dia jatuhkan Kim Shin
... hasut raja muda tu
but..lepas Kim Shin mati, isteri dia mati
raja muda tu pun..sasau..
penasihat tu pun mati..kena bunuh ngan Kim Shin
bab tu..mcm complicated sikit kan
sbb ada flasgback..zaman dulu kala tu sikit
yg lain..semua best
endingnya...emmm..
best!!
tapi..ada satu episod tu sedih
ep 13 .... sedih sangat ending episod tu
part Eun Tak..tarik pisau Kim Shin
pun ada watak penasihat jahat ni..jadi hantu dah
but jahat jugaks..
dah la buruk
buruk kan????
hantu jahat tu masuk dlm badan Eun Tak...and tarik pedang tu separuh jalan
and Kim Shin sudahkan
and..abis
Kim Shin mati..hilang
terbakar
ahh..sedih sangat part tu
"I'll come as the rain. I'll come as the first snow. I'll beg for god to let me do at least that."
sakit dada Mummy Ayu nangis2..
pas tu..cepat2 Eun Tak tulis..
kena ingat Kim Shin, dia goblin's bride..
sbb bila Kim Shin hilang...dr dunia
semua yg ingat or berkaitan dengan Kim Shin akan hilang sama
semua tak ingat siapa Kim Shin
siapa goblin tu
sedih
:-(
abis ..ep 13
cita ni..16 episod.
so...ep 14
Eun Tak dah berjaya...dah keja
jadi producer kat satu company radio ni
but...dia rasa mcm tak complete
rasa mcm ada kehilangan something
but..dia tak ingat apa or siapa
dia selalu nangis tetiba or sakit dada yg sangat2...
and guest what...
Kim Shin aka Goblin tu pun tak mati mcm tu jer
dia mcm stuck kat kawasan sahara mcm tu
tak de hala tuju
for about 9 years mcm tu
sehingga la...Eun Tak wish sekali lagi..pd birthday dia
mcm yg dia 1st kenal ngan Kim Shin
and Kim Shin muncul sekali lagi...
tapi sayangnya Eun Tak tak kenal & tak ingat siapa Kim Shin tu
but dia rasa sayu sangat & nangis2..
Kim Shin..of coz la suka...
seronoks sangat
emm..
pas tu...pas tu
ha..nie baru ep 14
nak tau ending..kena la tgk
nie bukan ending nya..seriusly
but..happy ending
but..ada sekali lagi sedih....sebelum happy tu
kenapa? mengapa? apa jadi?
kena la tengoks...
banyak dah Mummy Ayu cerita ni
he he he....